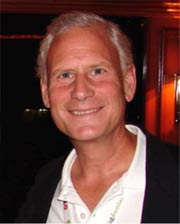 Rob Grant - Founder
Web Media Properties.com

Grant's passion for alternative digital assets dates back to 1996. He was an early investor & pioneer in the nascent domain name space - long before the evolution of search engines or the mass adoption of the internet.
During those early years Grant successfully built one of the largest privately held portfolios in real estate, education and generic URL's. Today those portfolios are immensely valuable and represent the core holdings of www.WebMediaProperties.com
Over the last 25 years Grant's passion for digital assets has grown to include the emerging blockchain space and the advent of crypto currencies.
Grant's primary focus is Bitcoin (just as his primary focus was the dominant dot com extension in the domain space). Grant is a firm believer that Bitcoin will eclipse the $11 trillion market cap of gold - and that Bitcoin will emerge as the new digital store of value. As evidence of this, Grant points to the significant $20 billion in capital outflows from gold since last October. Its no coincidence that Bitcoin has experienced a huge inflow of $7 billion during that same period.

Much like the early internet, mass adoption of Bitcoin is still in its early stages (with only a small fraction of the global population owning any BTC at all).But this is all about to change profoundly over the next 24 months as institutional funds begin to flow into Bitcoin. Already, early corporate adopters like Microstrategy and Tesla have paved the way for large public corporations to begin adding Bitcoin to their corporate treasury reserves.The path has become very clear for any forward thinking entity. Bitcoin's inherent game theory will soon kick in to overdrive. And the scarcest asset on earth (with only 21 million units mined) will soon be in such short supply - that the value of BTC will rise exponentially (literally exceeding the most irrational expectations of BTC maximalists).
With central banks around the world hyper inflating assets and devaluing currencies (by printing trillions of dollars) to support their post Covid economies, Bitcoin will emerge as the only global safe haven against the ravages of inflation and currency debasement. Ultimately, sovereign nations will compete for Bitcoin on a global scale to replace their (outdated) gold as a store of value and reserve currency. As this scenario unfolds, Bitcoin's explosive market cap will eventually exceed $100 trillion dollars. Bitcoin will emerge as a new global monetary network. And one Bitcoin, potentially, will be worth many millions of dollars.